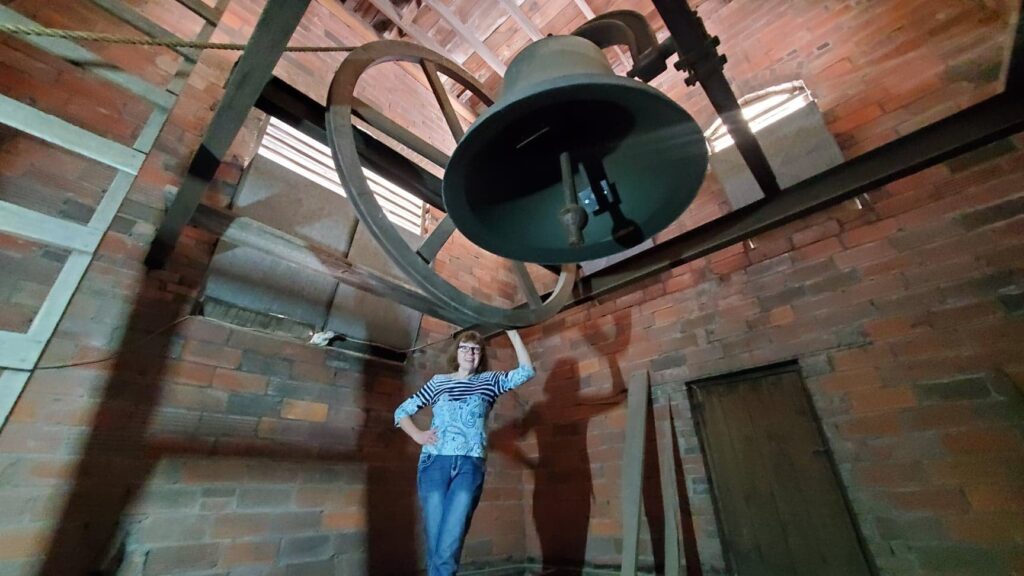 Uptown Brick & Bell was opened for service January, 2021. Spotlight School of Dance hosted their recital here on January 17, 2021. That was our first event. Since then we have had a celebration of life service, a funeral reception, and a fundraiser. Uptown Brick & Bell is the perfect place for your event. We can host your wedding, party, graduation, business conference, church group, club, reunion, garage sale, banquet, or classroom. We can accommodate any size group up to 200.
The building was formerly a house of worship rebuilt after a fire in 1920 by the Congregational United Church of Christ. Their new building opened in 1924. The church held its final service here in August, 2020.
During the 2020 Covid-19 outbreak, Doug and Joan began to explore small communities throughout SW Iowa. They noticed many small churches boarded up. Doug saw a post on Facebook advertising the UCC Church and decided to take a look. He instantly fell in love with the grand structure and stained glass windows. "I couldn't imagine them being boarded up. Someone needs to preserve and restore this building for future generations." With that he purchased the building.
Currently, improvements are being made. The kitchen is being upgraded to commercial standards. There are plans to add restrooms on the first floor. The future of Uptown Brick & Bell has yet to be determined. Stay tuned.
While we are working on improvements the building is available for rent at very attractive prices. You can help us by booking today. Give us a call at: 641-344-8412
You may find us at:
501 W Montgomery St., Creston, IA 50801
641-344-8412